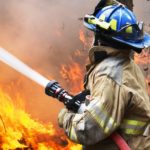 By Jim Cline and Kate Kremer
This is Part 5 of our 10 Part 2016 Wage Series. In our last article, we covered Commissioned Deputy and Police Officer Wages.  In this article, we turn to Firefighter and Corrections Officer Wages.  We'll cover Dispatcher and Records Clerk Wages in the next article.
In this article will provide you some discussion of the wage rankings but for the full rankings, you'll need to explore our Premium Website .  If you're not currently a Premium Website subscriber you can review our services Cline and Casillas Premium Information Services and contact Karla Rava at Cline and Casillas and she'll explain how you can become one. For current premium subscribers below are links to some of the additional available Firefighter and Corrections Officer Wage Rank reports:
Firefighter 5 Year No Degree 2016 Ranking
Firefighter 25 Year BA 2016 Ranking
Corrections Officer 5 Year No Degree 2016 Ranking
Corrections Officer 25 Year BA 2016 Ranking
We report Fire Wages using the Net Hourly Wage analysis and list both the 5 Year No Degree and 25 Year BA wages.  For fire contracts, the 25 year wages are more commonly a result of longevity premiums and less commonly education premiums.
At the 5 Year no degree level, the top 10 are weighted heavily with King County Fire Districts including King County Fire District 20, 4, 36, 39 and Joint King Fire District 10 & 38.  Snohomish Fire District 7 also makes the 5 Year list and Pierce Fire District 3 ranks 4th on the 25 Year BA list.  The Cities of Bothell, Kirkland, and Everett as well as the Kent Regional Fire Authority are on the 5 year top 10 with Kirkland dropping off and Lynnwood jumping to 9th place for the  25 Years BA list. On the 5 Year list, Seattle Firefighters have moved up significantly to 25th from a much lower 33rd place in 2015.  Because the hours of work, Kelly Days and leave times factor into these hourly rankings our premium website includes tables with that data listed.
Our Corrections rankings include a blended report of both County Corrections Officers and municipal jailers. And among the Counties some are interest arbitration eligible (County's with a population greater than 70,000) and some are not (those below 70,000). Not surprisingly, the report reveals a wide spread of wages.
King County tops both the 5 Year and 25 Year BA lists. Fife, supported by its high Assessed Valuation per capita, ranks at 3rd in the 5 year Ranking and 2nd in the 25 Year BA ranking. Marysville comes in at number 10 in both lists, down from its number 3 rank in the 2015 25 Year BA list. The top 10 ranked at 25 Years BA are evenly split with 5 counties (King, San Juan, Clark, Thurston and Pierce Counties). Olympia falls from 6th at the 5 Year rank to 13th on the 25 Year BA list. Fife, Marysville, Issaquah, Lynnwood and SCORE (with its six member cities and 30 contract municipalities) make the top 10 ranked cities by 25 Year BA wage. Ferry County pulls up the end of the 25 Year BA list of 55 corrections facilities at $3378 per month, $10 behind next to last Wahkiakum County. The 5 Year no degree Corrections Officer top 10 wage ranks are listed below.
In some future articles in this series, we'll delve into factors which appear to contribute to rankings including geographic location, population and assessed valuation.  Before we move into that, in the next article of this series, we'll finish our ranking with Dispatchers and Records Clerks.